Solutions for HVAC Industry
FBox connects PLC devices on site,and data can be monitored and managed through mobiles.
Solutions for Water-supply Industry
Data can be pushed to the cloud server and viewed through WEB interface.
Solutions for Boilers Industry
The devices can be monitored and tested remotely to improve the service efficiency.
Solutions for Machinery Industry
Integrating orderly management of the devices running parameters can be enabled through remote communication modules.
Solutions for Intelligent Agriculture Industry
It used greenhouse devices data collection platform to maintenance the low-efficiency devices.
Solutions for Devices Renting Industry
You can make automatic renting capital calculation and reminding.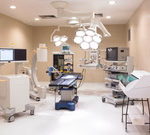 Special Controlling System for Surgeries
Large size integrated controlling system and embedded HMI can be customized for surgeries.Optical or capacitive HMI can be provided including Tel dialing, background controlling, operation PLC, 17~32 inch operation controlling system can be customized.
Controlling System for Wall Embedded Smart Home
Wall Embedded switch cabinets are used to replace the light switches on the war, and are widely used for controlling of the light scenes, air-conditioners and curtains.